You guys I did it – my very first furniture upcycle 😭. MAJOR kudos to people that do this for a living or even as a hobby because you guys are artists!! This is not an easy project to get done right (and trust me, mine has it's share of imperfections). & even though I'm not thrilled bc it's not perfect, I'm so proud of myself for actually committing to this and getting it done! I definitely thought this would turn into my new hobby obsession after I finished but now that I've been through the process I doubt that's gonna happen 😂
The best part, this beaut made its way into our home for UNDER $200! I bought a China Cabinet for ONLY $20 off of Facebook Marketplace (I pretty much stalk Facebook Marketplace for some amazing finds – I also have a coffee table and another cabinet from there that I got for FREE!) Then I invested some extra money in paint, primer, a paintbrush, tack cloth, and then some new knobs bringing my overall total to about $150-$160!
My dream sideboard (pictured below) is about $2600.. so this was the ultimate bougie on a budget project for me 😂 I loved the idea of the blue – it's unique, bold, beautiful, and totally fits in with the color palette I have going on in our living/dining space. I die for these oversized lion head knockers on the Wayfair Credenza, but since I was unable to switch out the knockers of the China Cabinet, I opted for some still bomb lion head knobs. I also initially planned on doing gold hardware as well, but after considering all of the other gold accents we already have going on in the space, I decided to go with a hammered copper option instead and love the way it turned out.
MY INSPIRATION / DREAM SIDEBOARD: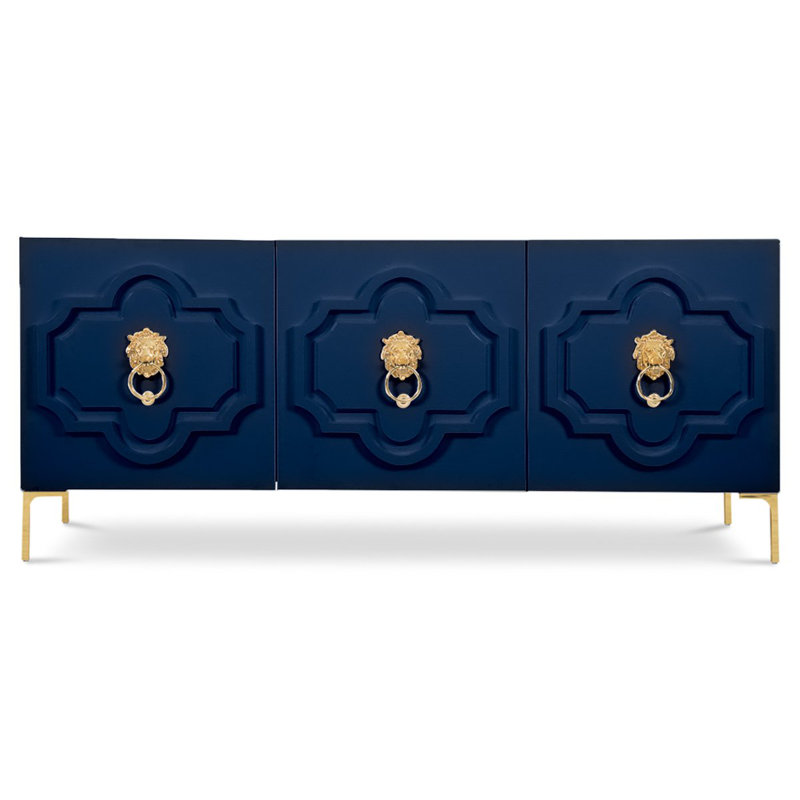 THE ORIGINAL CHINA CABINET ($20)
THE 'BAR' AREA BEFORE:
THE FINAL PRODUCT IN ALL ITS BOLD BLUE GLORY:
COLOR: 'DYED INDIGO' BY VALSPAR
I think it's safe to say this new sideboard is a significant upgrade from our original black shelf "bar" wouldn't you say?! Leave a comment below and let me know what you think! & don't forget to watch the video below for the full process (so you can give me tips on how to improve if there's ever a second furniture upcycle project I begin LOL)